At Smiline Dental, we are dedicated to delivering superior dental care, prioritizing patient comfort and satisfaction. With a team of experienced professionals and a patient-centered approach, we strive to create healthy, beautiful smiles that last a lifetime.
Welcome to

SMI'LINE DENTAL

Healthcare Boutique Clinic
Welcome to our renowned dental clinic in Faridabad, where we prioritize your oral health and provide comprehensive dental care services. With a commitment to excellence, our clinic stands as a symbol of trust, expertise, and personalized care.
Sun:

By Special Appointment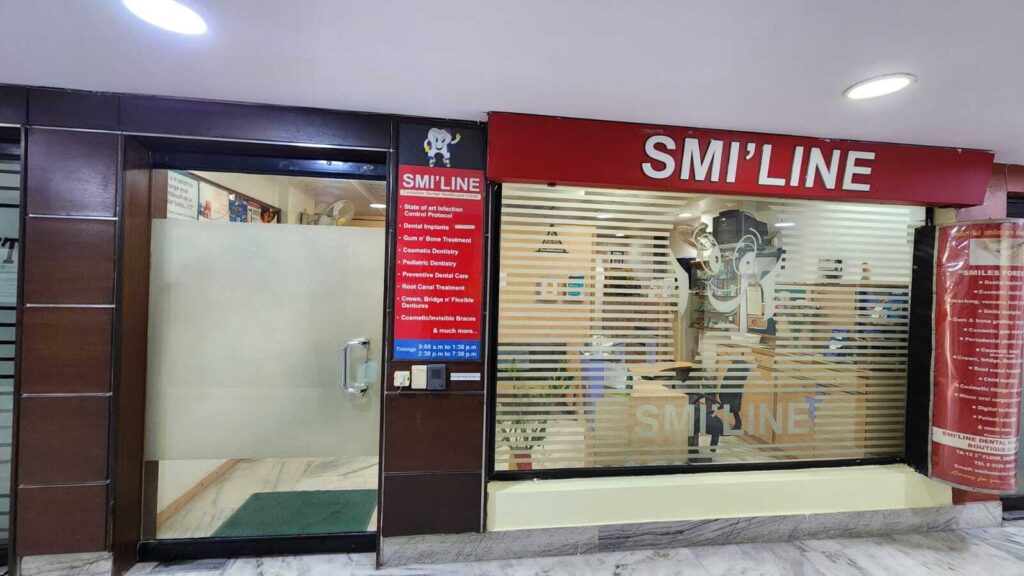 At our state-of-the-art facility, we offer a wide range of dental treatments and services to meet the diverse needs of our patients. From routine check-ups and preventive care to advanced restorative procedures, cosmetic enhancements, and oral surgeries, our highly skilled team of dental professionals is dedicated to delivering exceptional results.
Our clinic boasts a warm and inviting atmosphere, designed to ensure your comfort and relaxation throughout your visit. We understand that dental visits can be daunting for some individuals, which is why we strive to create a soothing environment where you can feel at ease.
Equipped with the latest dental technology and utilizing advanced techniques, we are able to provide precise diagnoses, accurate treatment plans, and efficient procedures. Our team stays abreast of the latest advancements in dentistry through continuous education and training, allowing us to offer cutting-edge treatments that deliver optimal outcomes.
We strongly believe in the power of patient education and actively involve you in your dental care journey. Our friendly and knowledgeable staff takes the time to explain treatment options, address any concerns or questions you may have, and empower you to make informed decisions about your oral health.
We pride ourselves on maintaining the highest standards of sterilization and infection control, ensuring a safe and hygienic environment for every patient. Your health and well-being are of paramount importance to us, and we go above and beyond to exceed industry regulations and guidelines.
At our dental clinic in Faridabad, we prioritize building long-lasting relationships with our patients based on trust, respect, and personalized care. Whether you're seeking routine dental maintenance, smile enhancements, or restorative treatments, our dedicated team is here to provide you with the exceptional care you deserve.
Where We Located? How Reach Here?
General Information about Faridabad
Transportation Connectivity for Faridabad
Accommodations And Landmarks
Hotels Available in Nearby Locality
Clients With
Reason To Smile
Read what our patients have to say about their experience at our dental clinic in Faridabad.
Dr. Sangeeta is one the best dentists in India, she had repaired many teeth in my mount including one implantation. She had done very good work for all my teeth.
My family has been visiting Dr Sangeeta Dhir and her Smiline Dental Clinic for almost five years for dental problems. Right from reaching the clinic to the time you take the next appointment, ...
When I first met Dr Sangeeta Dhir, I was suffering from a series of teeth and gum ailments.With the caring hands of Dr Dhir coupled with the ultra modern techniques she adopted, I was able to restore my shaking teeth...
Through one of my friends,i came to know about your clinic. i had very good treatment on rootcanal and other problems. you were courteous,time bound and highly professional. Hygiene is topmost and good...
Dr. Sangeeta is an excellent dentist. She was very supportive and took time to explain the procedure including pros and cons of the treatment so that I can make an independent judgement..
visited Smi'line Dental Healthcare Clinic for my cosmetic gum problems that ranged from black gums, sensitivity in teeth etc. Dr Sangeeta Dhir with her astute clinical diagnosis did a complete...
I was referred to Dr Sangeeta for periodontal problems in my mouth by my dentist. I was here in India for work trip. My teeth were shaking...
I was referred by my dentist in Kolkata to Dr Sangeeta for my pyohorrea problem. I was advised to extract all my teeth and go with implants by several dentists...
I was referred by my dentist in Kolkata to Dr Sangeeta for my pyohorrea problem. I was advised to extract all my teeth and go with implants by several dentists...
Sun:

By Special Appointment
Schedule your appointment today and experience the difference of top-quality dental care in Faridabad. Let us be your partners in achieving a healthy, beautiful smile that lasts a lifetime.